This week has been brutally cold. I saw the windchill reach -50 degrees, and temperatures bottom out at -25 degrees. My nostrils froze. Three pairs of socks proved insufficient, even in my cozy home office. The cats wondered if the world was ending.
But I've been busy and reading and absorbing. Here are a few things on my mind.
Odes to tractors, air conditioners and brassieres… the brave world of industrial musicals
Romantic ballads… about a bathroom.
Catchy ditties… about tractors.
An entire musical titled "Diesel, Dazzle."
A song about Keds sneakers set to the tune of "Old MacDonald."
Welcome to the strange, strange world of "industrial musicals." During the 50s and 60s, marketers were tasked with developing entire musicals to educate and entertain (?) sales forces about their product lines.
A recent Fresh Air podcast dug into this phenomenon, replete with song clips that had tears streaming down my face. Occasionally in my marketing career I've written a stanza or haiku about a product — I can't imagine doing an entire musical.
Listen to the whole thing, all the way through the final number that rhymes "compressor" with "yes sir."
LBJ buys pants, with explicit instructions
I've run into this 1964 video before, and it holds up. LBJ calls the owner of Haggar clothing and very colorfully explains exactly how he needs his next pairs of pants adjusted – a couple inches here, an inch there, and so on.
But as Ann Handley points out (and this is where I recently saw the video), LBJ's shopping spree offers a great lesson for marketers: LISTEN TO YOUR CUSTOMERS. Really listen. LBJ describes what exactly keeps falling out of his pants – a knife, his money – which paints a much better picture than simply saying "make the pockets bigger." But if Mr. Haggar had interrupted LBJ, he may not have gotten that detail.
Are influencers really so influential?
Many moons ago, I worked for IBM. The software I supported had a loyal group of users dubbed "Champions." They received training perks, extra support, and other special treatment.
I was charged with building a social strategy to support an upcoming launch. I had started interacting with several of the Champions on social media. Many of them had strong followings and were very engaged with their users. (This was way back when Twitter was all about conversations and less about promotion.)
Long story short, we drafted several of these Champions into what we called an "Influencer Program." We gave them special beta access to software, invited them to sessions with the developers, and generally helped them prepare to support the launch right away — so they could support their end customers. In return, they participated in tweetchats, drafted blog posts (for our site and their own), and joined us on webinars. (We also provided some social training on how to optimize their own work — things like how to best use hashtags and grow followers.)
It was lovely and organic and very successful. The influencers grew their own followings,  got to geek about things that interested them, made new professional contacts, and overall really appreciated the program.
These days, I cringe at influencer programs where lots of money changes hands for lackluster, artificial support. MarketingProfs recently (ok, ok, I'm behind in my reading) offered tips about budgeting for influencer marketing and combatting fake followers.
That's why it was so refreshing to hear another perspective at a Medill panel last night. One of the panelists explained that while one of her clients has an extensive influencer marketing program, they don't mess with the authentic. When a celebrity or someone truly influential happens to tweet or Snap or whatever their product, she said there's often a rush to sign that person on to their program. She halts that, saying, "You will do no such thing!" After all, you can't buy that authenticity.
While my Pollyanna side misses the old days of all organic influencer marketing, the realist appreciates that there's still room for organic in a increasingly paid world.
When the urgent isn't important (and vice versa)
Andy Crestodina's 7 Habits of Highly Effective Content Marketers has several simple, actionable tips to boost productivity. (Though, NOPE, not waking up at 5 AM. It's nice to see some of the examples include people who get up a bit later.)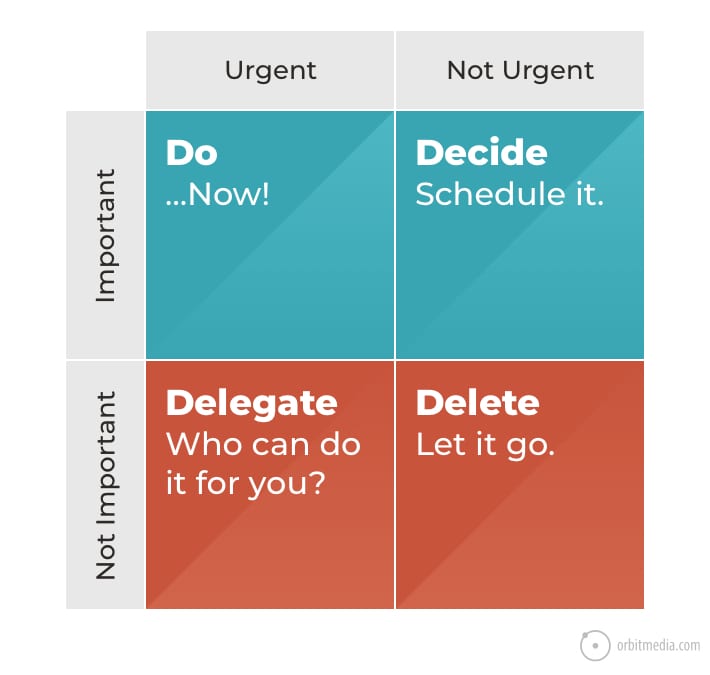 I've re-read Andy's article a couple times since I first bumped into it, and his decision box has stuck with me. It's based on Dwight Eisenhower's maxim, "What is important is seldom urgent, what is urgent is seldom important."
We each get the same 24 hours in a day, and we each get the choice on how to spend that time. Differentiating the nuances of urgent and important can help bring more sanity to the day.
This week in books (and… Legos?)
I'm still plodding through Middlemarch, though Bloggess Jenny Lawson's Let's Pretend this Never Happened is providing a nice counterbalance on those nights when I finally sit down to read with heavy eyes and a fried brain.
We're heading to Steppenwolf to see A Doll's House, Part 2, so I re-read Ibsen's 1879 original. It holds up, as wrenching and frustrating as I remember. The 140-year-old plot feels so familiar — and I'm eager to see how this production, set 15 years after the famous door slam, continues Nora's story. (This Lego-ized version does a nice job of catching you up, too.)
Word of the Week: Caterwaul
Caterwaul: what Poe, our black kitten, does every night after we lock him out of our bedroom (to keep the 2 AM kitten wrestling match off our bed), and again at 6 AM on weekends. We interpret it to mean "I'm hungry," "I know you're in there," "Play with me," and "Feed me." (Poe is very food-motivated, as our vet says.)
Caterwaul is the word that kept coming to mind, so finally I looked it up. Lo and behold, it really DOES have feline origins.
Merriam-Webster defines caterwaul as "to make a harsh cry" or "to protest or complain noisily." It dates to the 14th century "for the act of voicing feline passions," with the "cater" possibly stemming from Middle Dutch cāter ("tomcat"), or it might just be "cat with an '-er' added." The "waul" imitates the sound itself.
And now you know.